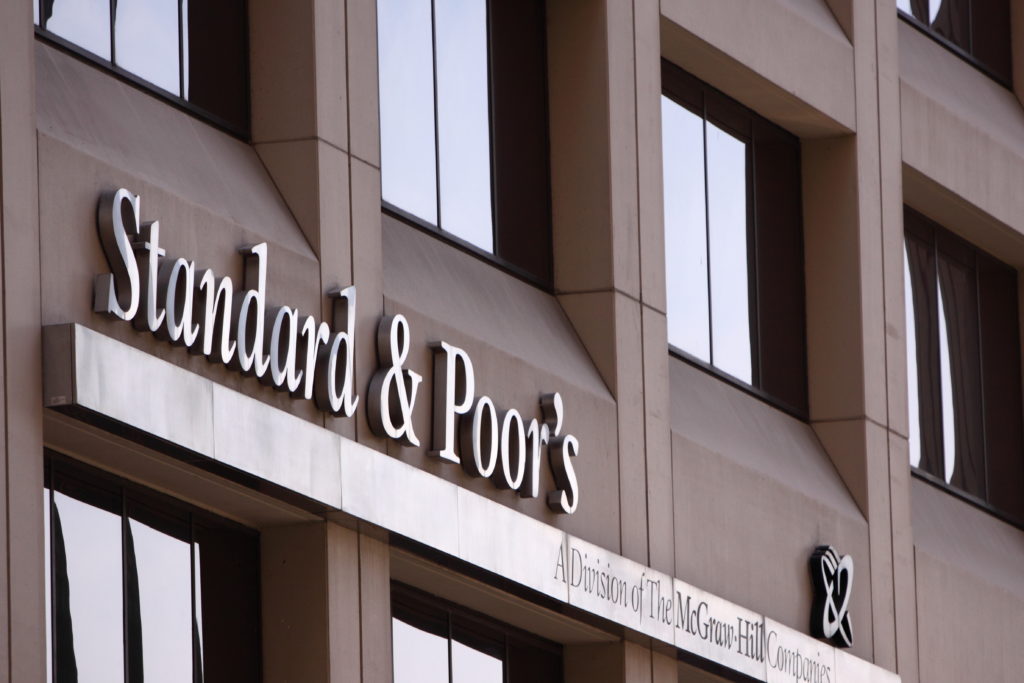 Recently, the leading international rating agency Standard & Poor's upgraded Israel's credit rating by one notch, to A+. According government sources, the rating action reflects S&P view of Israel's improved economic policy flexibility as a result of strong growth and careful macroeconomic management. The rating service raised its long-term foreign currency sovereign credit ratings on the State of Israel to A+ from A, affirmed the local currency ratings at AA-, and the transfer and convertibility (T&C) assessment remains at AA. Also, S&P's outlook for Israel is stable.
This confirms Israel again as a preferred investment destination, and shows the confidence of the international financial rating services in the stability of the Israeli bond market.
This is in sharp contrast to recent downgrades of the United States and various European countries due to their fiscal policies and rampant government deficit spending.
S&P mentioned that their ratings on Israel are supported by their view of its "prosperous and resilient economy, strong institutions, ongoing fiscal consolidation, and robust external performance."
Israel Weathered the Global Financial Crisis Well
According to S&P, Israel is on a credible path toward continued government debt burden reduction and stronger external indicators, having weathered the global financial crisis well. S&P also noted that Israel's external position is sound, as a result of consistent current account surpluses since 2003, and that that the production of natural gas by the middle of the decade is likely to further increase the economy's efficiency as well as strengthen its fiscal and external positions.
The stable outlook reflects S&P's opinion that Israel's popular consensus about containing public debt will remain intact despite social protests. S&P noted that "despite rapid appreciation in housing prices, we do not consider the sovereign to be exposed to significant contingent liabilities from the financial system."
Israel Banks Run Tight Ship
Also, according to S&P, the banking sector appears to be tightly regulated, resident banks seem to pursue relatively conservative business models, and Israeli banks and households are also fairly well capitalized by international standards.
Rating Agencies Continue to Upgrade Israel
S&P first upgraded Israel's credit rating to 'A' in 2007. In January 2009, it reaffirmed its decision, further giving Israel's market a "solid" forecast. Alongside the decision by S&P to upgrade Israel's credit rating to A+ this September, the two other major credit rating firms, Moody's and Fitch, also reaffirmed their rating towards Israel, as Moody's left Israel's A1-Stable rating unchanged, and Fitch ratings left Israel's A Stable rating unchanged.
Government Officials Response
Minister of Finance, Dr. Yuval Steinitz, noted that "this is an impressive credit given to the Israeli economy and its successful coping with the global economic crisis. This achievement of credit upgrade is especially unique given the debt and massive unemployment crisis, which hurt many economies' credit rating." Minister Steinitz also noted that "the fact that S&P mentioned the latest natural gas findings as a point of strength for the Israeli economy indicated the importance of the work done by the Committee to Examine the Fiscal Policy on Oil and Gas Resources in Israel, Headed by Prof. Eytan Sheshinski." The minister added that "Israel cannot rest on its laurels, as the on-going global crisis demands us to keep our budget frameworks and economic policies.
The Accountant General in the Ministry of Finance, Ms. Michal Abadi-Boiangiu, noted that "the announcement by S&P in such times, when the world is confronting a deep global economic crisis, testifies on the strength of the Israeli economy."
Source: Israel Ministry of Finance