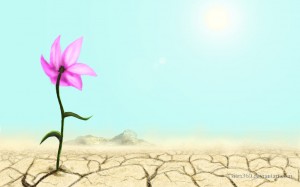 "I will make rivers flow on barren heights, and springs within the valleys. I will turn the desert into pools of water, and the parched ground into springs." (Isaiah 41:18)
The Land we've been given here is a dry land. It is mostly desert, and it's difficult to grow crops in the arid south of Israel.
But this has been Israel's portion and fate for thousands of year.
Modern-day miracles
Now, modern-day Israeli scientists are taking the little water we have - together with some Jewish ingenuity and the favor of God - and causing Scripture to come true.
"The desert and the parched land will be glad; the wilderness will rejoice and blossom. Like the crocus, it will burst into bloom;... Water will gush forth in the wilderness and streams in the desert. The burning sand will become a pool, the thirsty ground bubbling springs. In the haunts where jackals once lay, grass and reeds and papyrus will grow." (Isaiah 35: 1-2,6-7)
What is desalination?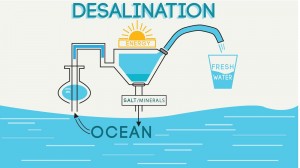 Desalination is a process by which undrinkable salt water is filtered to catch the salts and other particles suspended in the fluid, making the water drinkable.
Israeli technology

Fast emerging technologies are now making desalination a viable proposition not only for the arid areas of the world but for places not usually associated with water shortages. IDE Technologies, a leading water sector Israeli company which is internationally recognized as a pioneer and leader in the delivery of sophisticated water solutions, is leading the charge.
Largest in the Western Hemisphere - Israeli made
Several days ago, IDE Technologies dedicated the largest desalination plant in the Western Hemisphere – a facility that will produce some 190 million liters of water daily for the residents of southern California.
Providing a new source of water in a state that has long suffered severe droughts, the Claude "Bud" Lewis Carlsbad Desalination Plant will be quenching the thirst of roughly 10 percent of San Diego County, according to IDE. Employing advanced pretreatment and seawater reverse osmosis technologies, the plant is able to generate potable water of the highest quality while significantly reducing energy consumption.
The plant, which will be operated by IDE, has created some 2,500 jobs and generated about $350 million for the local economy.
"Since the last major drought here a little over 20 years ago, the San Diego region has worked to conserve water as well as identify new water sources," said California Assembly Speaker Toni Atkins.
In addition to the Carlsbad facility, IDE is currently part of another 10 projects in the United States and operates hundreds of facilities around the world, as well as three of the four largest desalination plants in Israel, the Israeli firm said.
Leading the world
Israel is considered a world leader in water recycling and has advanced in desalination and recycling water in recent years. According to released statistics, Israel recycles 70 per cent of its waste water and sewage.
IDE's holds desalination seminars  in cooperation with the Israeli Water Authority, the Israeli Foreign Ministry, the Middle East Desalination Research Centre and the Centre for International Agricultural Development Cooperation in Israel to introduce the participants to modern desalination technologies and to train them in the correct design, operation and maintenance of water desalination plants.
Their seminars cover topics in both thermal and seawater reverse-osmosis membrane desalination and offered participants practical instruction regarding the operation and maintenance of large and complex desalination plants. Participants also visit the desalination plant in Ashkelon which IDE designed and built.
Israel has desalinization plants not only in Ashkelon (the largest seawater reverse osmosis (SWRO) plant in the world), but also in Sorek, Palmachim and Hadera on the Mediterranean coast. Another is planned for Ashdod.
The Water Revolution
As California and other western areas of the United States grapple with an extreme drought, a revolution has taken place here in Israel. A major national effort to desalinate Mediterranean seawater and to recycle wastewater has provided the country with enough water for all its needs, even during severe droughts. More than 50 percent of the water for Israeli households, agriculture and industry is now artificially produced.
With its part-Mediterranean, part-desert climate, Israel had suffered from chronic shortages and exploitation of its natural water resources for decades.
Israel has long sought solutions to the threat of drought. Commercial desalination began in the 1970s in the city of Eilat, on the Red Sea. The first desalination technology used there, in a short-lived pilot project, froze water to remove the salt, then melted it to make fresh water.
But Israel seriously embraced desalination in the late 1990s, after a particularly bad drought. The government then decided to build five new plants along the Mediterranean, as fast as it could.
The natural fresh water at Israel's disposal in an average year does not cover its total use of roughly 525 billion gallons. The demand for potable water is projected to rise to 515 billion gallons by 2030, from 317 billion gallons this year.
The turnaround came with a seven-year drought, one of the most severe to hit modern Israel, that began in 2005 and peaked in the winter of 2008 to 2009. The country's main natural water sources — the Sea of Galilee in the north and the mountain and coastal aquifers — were severely depleted, threatening a potentially irreversible deterioration of the water quality.
Measures to increase the supply and reduce the demand were accelerated, overseen by the Water Authority, a powerful interministerial agency established in 2007.
Officials say that wiser use of water has led to a reduction in household consumption of up to 18 percent in recent years.
Desalination emerged as one focus of the government's efforts, with four major plants going into operation over the past decade. With the fifth Ashdod facility, they will produce a total of more than 130 billion gallons of potable water a year, with a goal of 200 billion gallons by 2020.
A desalination plant was dedicated a number of years ago in Hadera. Among the largest of its kind in the world and the third largest in Israel, the plant uses reverse osmosis technology, which means the sea water does not have to be heated, as is done in larger plants in the world that are less environmentally friendly. The entire process of desalinating the water takes 35 minutes from the time it enters pipelines in the sea.
The mammoth plant covers more than 18 acres and actually is two facilities that can operate independently from each other. Together, they can provide 127 cubic million liters, or 33 million gallons a year.
Recycling wastewater
Israel has, in the meantime, become the world leader in recycling and reusing wastewater for agriculture. It treats 86 percent of its domestic wastewater and recycles it for agricultural use — about 55 percent of the total water used for agriculture. Spain is second to Israel, recycling 17 percent of its effluent, while the United States recycles just 1 percent, according to Water Authority data.
As an example, the Nana vineyard, which, like many others in Israel, is irrigated with recycled wastewater. Israel has become the world leader in recycling and reusing wastewater for agriculture. It treats 86 percent of its domestic wastewater and recycles it for agricultural use — about 55 percent of the total water used for agriculture.
How can I participate in this success?
How can an investor profit from Israel's prowess in water technology? A number of the private companies in the water technology space are owned by a few publicly-traded companies on the Tel Aviv Stock Exchange (TASE). You can own a part of these companies by buying their shekel-denominated stocks on the TASE. IDE Technologies, for example, is owned equally by Delek Group and Israel Chemicals, Ltd. (ICL).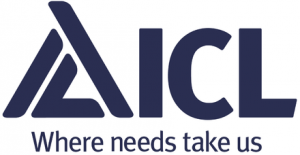 ICL, whose stocks are sold on the TASE, is a multi-national manufacturing concern that develops, produces and markets fertilizers, metals and other special-purpose chemical products. ICL also owns Larnaca Desalination Partners, a large Cyrpus desalinization plant operator, which IDE built. Additionally, ICL  owns many other chemical companies, including those extracting precious minerals from the Dead Sea (such as Dead Sea Works, Dead Sea Magnesium, Inc. and Lianyungang Dead Sea Bromine Co.).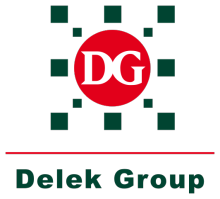 The Delek Group, one of Israel's largest investment and holding companies, is one of the large cap components of Israel's leading stock index Tel Aviv 25 (comparable to the Dow Jones Industrial Average on Wall Street). It also offers corporate bonds for purchase. Delek Group is involved in  energy and infrastructure, with investments in upstream and downstream energy, water desalination and power plants. Subsidiaries Delek Drilling and Avner Oil Exploration own large portions of the recently discovered Tamar and Leviathan Israeli natural gas fields, which recently made Israel a world-player in the energy market.
Sources: Wikipedia, edie.net, IDE Technologies, New York Times ,water-technology.net, BibleDiscovered.com, GreenProphet.com, Embassy of Israel