One of our best stock picks in 2018 was the Israeli beverage company SodaStream. On August 20th, 2018, American beverage giant PepsiCo signed a deal to acquire the Israeli home seltzer machine producer SodaStream for $3.2 billion. Following International Flavors & Fragrances' acquisition of Frutarom in May, this is now the second time in the space of three months that a transaction of such magnitude has taken place in the Israeli market. This year alone, the stock more than doubled (approximately 110%). However, the SodaStream we know today is not the same company as it was over a hundred years ago or even in the mid-nineties.
Founded as The SodaStream Co. back in 1903 by W & A Gilbey Ltd., the famous London Gin distiller, its first soda maker was created by George Gilbey. The company first introduced two flavors in 1920 - sasparilla and cherry. By 1955 SodaStream had expanded its distribution introducing 14 new flavors.
In 1979 SodaStream developed the classic Soda Maker, which remained its top product for decades, and with successful television advertising campaigns grew its sales by fifty percent.
In 1985, the Cadbury Schweppes conglomerate acquired SodaStream, operating it as an independent business. However in 1991 SodaStream's main distributor in Israel, Peter Wiseburgh, established his own company - Soda-Club. The company's business was not confined to sales only, rather it also developed a new brand of domestic soda-making devices. The Israeli inventiveness proved to be a hit as the company reached foreign markets as far as South Africa and Australia. Eventually, Soda-Club's success resulted in its purchase of SodaStream. This is how the Israeli company set out on the path to become the world's largest home carbonation system supplier.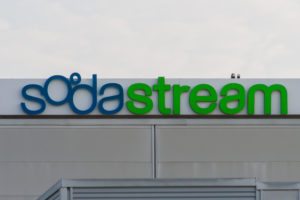 In the early 2000's, SodaStream grew its production to nearly two hundred flavors and developed a global distribution network. However quick growth came at a price as the company ran into financial difficulties. Consequently, this led to its sale in 2007 to Israeli private equity investment group Fortissimo Capital Fund, which appointed Daniel Birnbaum as the CEO. In 2010 the company listed shares on the Nasdaq and six years later also on the Tel Aviv Stock Exchange.
Under the new CEO's leadership, SodaStream rebranded itself as a fizzy water company. The company continued evolving, introducing its first line of natural sodas that contained no artificial colors, sweeteners, flavors, or preservatives.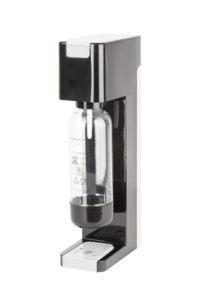 It provided a healthier alternative to the soft drinks offered by its global competitors. In recent years, the company's expansion has been credited to focusing on innovative and healthier beverages such as Soda­Stream My Water, SodaStream Caps, SodaStream Free, and other products.
In recent years SodaStream has been running a global marketing campaign that addresses one key message - one reusable Soda­Stream bottle can help eliminate the usage of thousands of disposable plastic bottles.
Advocating for a more sustainable way of life, SodaStream spreads the word that the global plastic bottle pollution issue must be resolved. For the health conscious consumer the company accentuated the fact that SodaStream owners consume 43-percent more water than non-owners and use the sparkling water maker to cut sugary drinks out of their diets entirely.
In addition, targeting green-leaning and health-conscious consumers with messages of excessive use of plastic bottles by global beverage conglomerates is what helped Israeli SodaStream grow from a plain maker of fizzy water into a mammoth worth $3.2 billion.
It is unfortunate to see an Israeli company being taken over by a global corporation and delisted from the Israeli stock exchange, especially since Wise Money Israel has been holding its shares in its client's investment portfolios. However, the good news is that SodaStream will remain an independent firm within PepsiCo, with its headquarters and operations remaining based in Israel for the foreseeable future. This will allow it to maintain its own brand, expand even further and keep delivering its products to households far beyond Israel. And as for PepsiCo, purchasing SodaStream may prove to be a turning point for its brand which has been struggling for sometime.
cnn.com, timesof israel.com, responsemagazine.com, forbes.com