Israel is famous for being a Start Up Nation. Its inventions have been used worldwide in various fields - from biotech to irrigation technology, from computer chips to Artificial Intelligence. The breakthroughs in many areas have blessed consumers around the globe.
Another aspect of Israeli society, however, is not as widely celebrated in the western world. These are so called collective communities known in Hebrew as kibbutzim. Going back to the founding days of the state of Israel, these essentially socialist settlements focused on a communal life. As time went by, more of the capitalist elements were embraced by the broader society, and the kibbutz movement began declining. However, it remains present today and continues making its contribution to the Israeli economy.
Some kibbutzim, originally focusing on the agricultural sector, have now entered the business world by providing products that stretch far beyond Israel's borders. In fact, there are currently 20 multinational businesses operating on kibbutzim today. One such community is kibbutz Yizre'el. Kibbutz Yizre'el is home to Maytronics Ltd, which serves as its main source of income. Maytronics' specialty is development, production, distribution and technical support for swimming pool equipment, specifically robots for cleaning swimming pools. In addition, it produces alarms for protecting swimmers from drowning and other products for treating swimming pool water. Over the years, the company's products have proved to be very successful, as its robots are currently used by approximately a third of public pools and around half of private pools around the globe.
However, this was not always a case. The story of Maytronics originated back in 1983 when Lenny Hirsh, one of the members of the kibbutz, saw commercial sense in developing cleaning robots in distant South Africa and pitched this idea to the rest of the kibbutz to buy a patent and develop it further. At the time, the kibbutz was going through a difficult financial situation, with combined debt which stood at around 125 million shekels. Said another way, the kibbutz's total cashflow was not sufficient to pay the interest. Despite this, the member of the community agreed to Hirsh's wild idea, and that is how the business commenced. Twenty years later, the company went public and is currently traded on the Tel Aviv Stock Exchange.
Earlier last month, Mayronics entered the history books for becoming the first kibbutz-owned company to be listed on Israel's major stock market index (Tel Aviv-35), which consists of the country's 35 largest publicly-traded companies. Kibbutz Yisre'el continues to be a majority holder of the company, whose market cap reached  over 5 billion shekels ($1.6 billion USD) in August, or to put it differently, the members of the kibbutz share between themselves a whopping 3 billion shekels. Ironically, Yizre'el is one of the last communities that remains faithful to its socialist founding ideology – regardless of their position within the community, company corporate ladder or level of income – each member gives 100% of his salary to the kibbutz and in return receives a stipend.
Having said all that, this vast wealth was on a brink from been forfeited as one of the world leaders in the industry came up with an offer to buy a controlling stake. Nine years ago, in 2011, Hayward offered NIS 180 million for a 67% stake, which was considered to be an attractive premium at that time.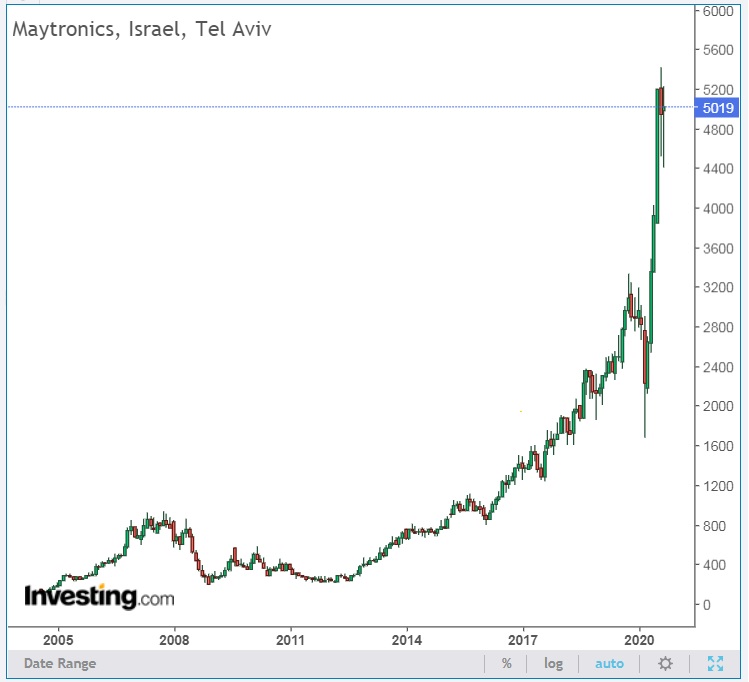 The Israeli company's valuation stood at NIS 345 million. Not surprisingly, it took an emotional meeting for its members to turn down a lucrative offer. Now, looking back, that decision proved to be a wise one as Maytronics' value has skyrocketed since then with company's shares ascending by an amazing 2,600%!
Back in 2017 the kibbutz sold 10% of its shares for NIS 235 million, and on August 20 this year they sold another 3%, raising the total of NIS 385 million from both transactions. Even after reducing their stake to 54%, Yizre'el remains in control of its flagship company.
This recent event has only reminded its owners that they made the right decision not to sell its stake a few years ago, especially as two-thirds of its annual profits the company distributes as a dividends.
With the summer period being a busy period for Maytronics as seasonal private pools sales increase, the company must adjust to accommodate incoming orders. However, this year delivered another boost as Corona virus pushed people to stay at home, which served as an incentive for those who can afford to buy a backyard swimming pool. During the pandemic, as stated by Reuters, demand for pools reached unprecedented levels around the globe. Manufacturers and distributors have been scrambling to meet a wave of demand as consumers have been forced to remain at home to avoid the virus.
Consequently, Maytronics has been enjoying a significantly higher level of sales of its leading product - the pool cleaning robot called "Dolphin". Even with a favorable environment like this year, the potential for growth remains high due to the fact that most of the pools remain serviced manually. According to Maytronic's CEO Eyal Tryber, there are approximately 20 million pools globally that do not have robots at all. Therefore, the company remains optimistic as it sees plenty of room for growth. From 32% of the total market share back in 2010, the company has climbed up to 48% last year. The company has been exporting its products around the world for many years now. Currently, the European market is the largest in terms of revenue generation (45% of total sales last year), the United States in second place (39%), and slowly but steadily starting in 2011 the market presence has been growing in Australia and New Zealand (11%).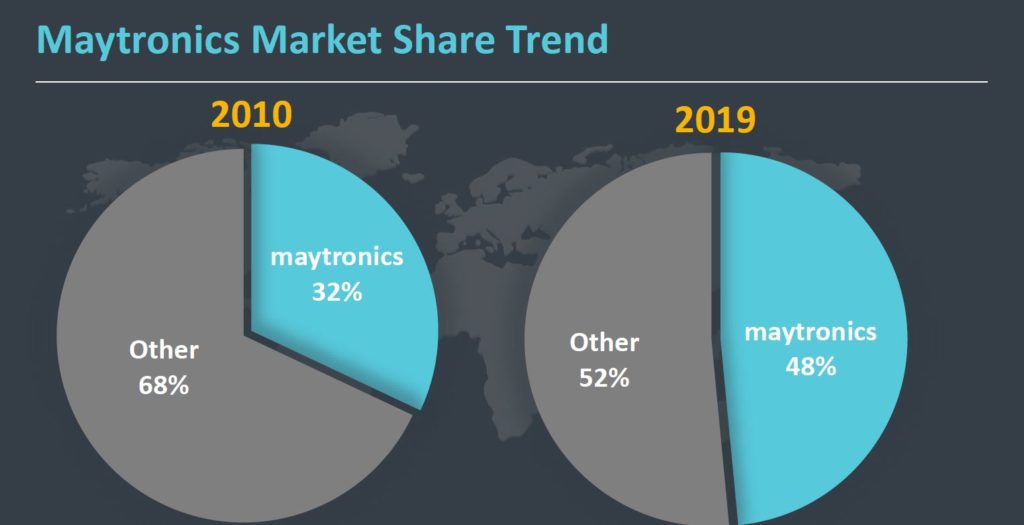 Source: Company presentation
Hundreds of thousands of "Dolphin" units have been sold each year. But it is not only robots that keep customers choosing the Israeli firm. Alongside its highly efficient device, the company markets its anti-drowning alarm system together with pool covers. The management takes safety issues seriously and sees it as one of the potential engines for growth. Accordingly, Maytronics had to expand its production facilities beyond its plant at Yisre'el. In fact, there are two more plants – one in La Ciotat in France and another one in the Upper Galilee in Israel. This way the company is able to cope with any increase in demand when needed. Finally, Maytronics does not rest on its laurels and remains committed to continual heavy investment in its Research & Development to keep its cutting-edge advantage over its competitors.
It is fascinating to see, how someone's idea and perseverance in developing a simple product such as a swimming pool robot, could result in a multinational business that currently exports 98% of its products worldwide. And maybe this is why a firm from a small Israeli kibbutz managed not only to outgrow its local market, but become a global leader in its industry.
If you are interested in learning more about Wise Money Israel and how we can help you manage your portfolio, please contact us here.
Sources: Reuters, Calcalist, Globes, Haaretz, Hadassah Magazine