Current securities regulations do not allow Wise Money Israel to update your Israeli investment account password for you. Please reset your password online once every six months. If you neglect to login to the Meitav Trade's brokerage's investment website at least once every six months to view your account, your password will expire and you'll need to contact the Israeli brokerage directly via phone or email to have your password reset. Only Israelis with Israeli IDs can reset their passwords online.
Logging in and changing your password should take less than 30 seconds of your time. Please have ready your current password and a new password (a combination of upper and lowercase letters and a digit, between 8-10 characters long).
Changing Password
To change your password, view the video above or simply follow these instructions:
Click on the following link. If the text of the page isn't in English, click the "English" button at the top of the page: https://sparkmeitav.ordernet.co.il/#/auth
Once on the Meitav Trade Investment website, please enter your 10-digit username (called the "Card Number") and your current password, and click the button "Log in"
If you are prompted to immediately change your password prior to being able to proceed, you can do it then (you were close to the time of password expiration). Otherwise, you will see the following window: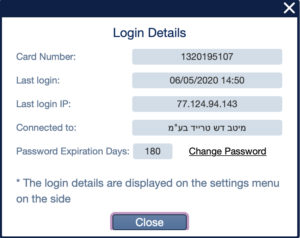 You can change your password by clicking on "Change Password", which is located next to the "Password Expiration Days" (which shows the amount of days until expiration). You will then be asked on the following window to enter your current password and new password (twice):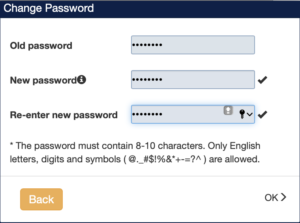 Once your acceptable new password is entered twice identically (when the new password matches twice you'll see two check marks), you'll be able to click the "OK >" at the bottom right. You'll then see the following confirmation window:

Click the (Hebrew) okay button.
Password Expired
You will not be able to get a new password online unless you are an individual with an Israeli ID number. So, if you find yourself unable to login or change your password, please email Meitav Trade Customer Service by clicking here to request a new password. Please indicate your full name, Card Number (login) and your Meitav Dash Trade 5- or 6-digit account number. If you don't remember your Card Number, indicate the country and passport number for the passport you used to initially open the account (as identification).
If you do not receive your new password within three Israeli business days, please contact us at info@wisemoneyisrael.com.
If you do not have an email program installed, please see the manual email instructions below:
Email address: trade@meitav.co.il, cc: info@wisemoneyisrael.com
Subject of email: Need new password
Body of email: Hello Meitav. My password expired. Can you please send me a new password? My Meitav Dash Trade account number is xxxxx, and my Card Number is xxxxxxxxxx.