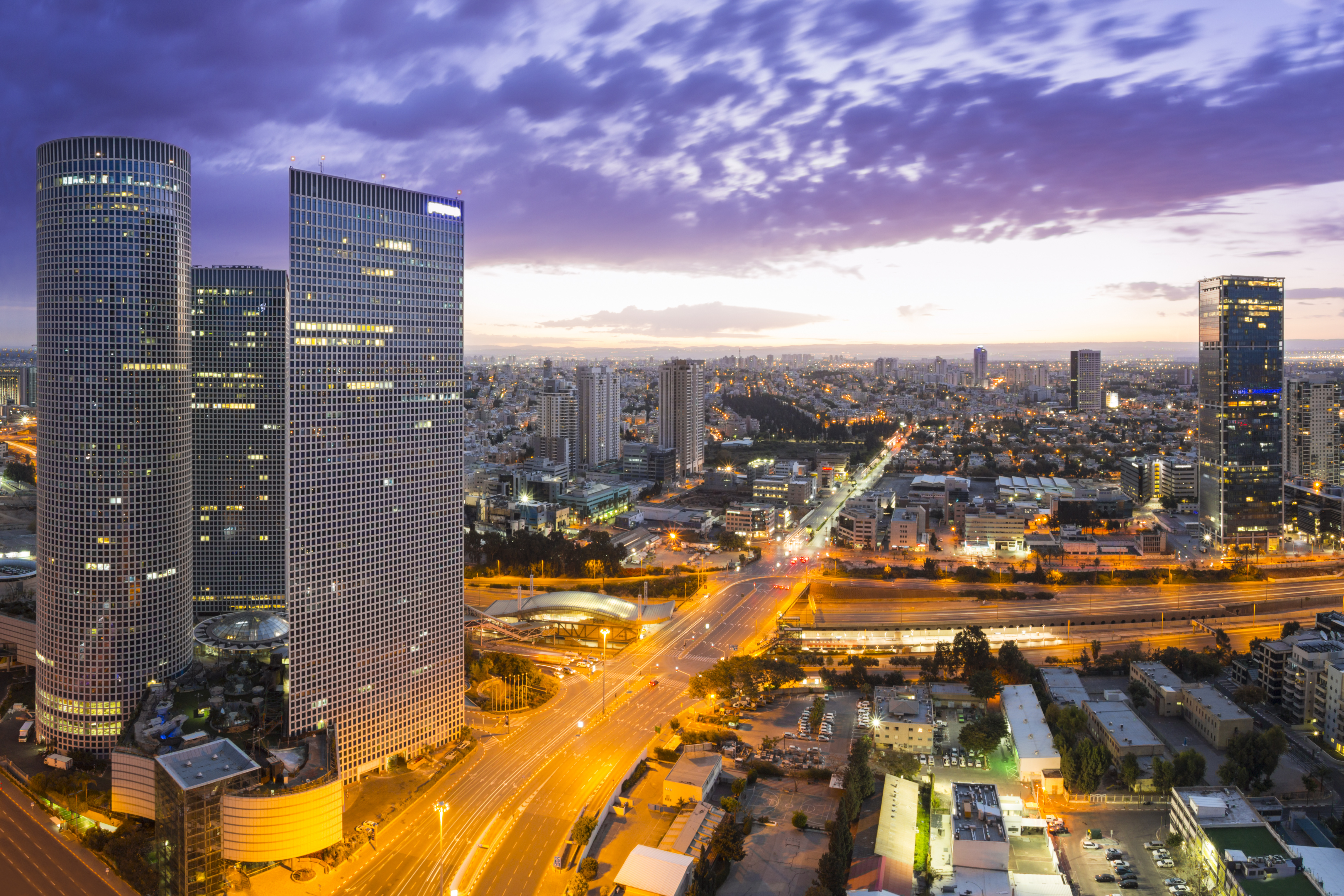 When author Mark Twain visited the Land of Israel (then still called Palestine) in 1867, he penned impressions of what he witnessed in his book "Innocents Abroad":
"A desolation is here that not even imagination can grace with the pomp of life and action. We reached Tabor safely. We never saw a human being on the whole route.  There is not a solitary village throughout its whole extent – not for thirty miles in either direction. ...One may ride ten miles hereabouts and not see ten human beings. ...these unpeopled deserts, these rusty mounds of barrenness..."[i]
In conclusion Twain claimed that "Palestine sits in sackcloth and ashes.... desolate and unlovely..."[ii]
Others described the land as "desolate and roamed through by Arab bands of robbers"[iii], "nothing but houses in ruins, cisterns rendered useless, and fields abandoned"[iv] and even late in the 19th century a French traveler wrote that Haifa "can be crossed in five minutes"[v].
The picture is clear: a mere 100 years ago, the Land of Israel was desolate of people and of buildings, and villages that did exist were comprised of small, rural shacks. That is certainly not the scene that travelers arriving in Israel today first lay eyes upon.
"Though you were ruined and made desolate and your land laid waste, now you will be too small for your people, and those who devoured you will be far away. The children born during your bereavement will yet say in your hearing, 'This place is too small for us; give us more space to live in." - Isaiah 49:19-20
Construction in modern day Israel is booming, with apartment buildings, malls, hotels, highways, interchanges and high-rises springing up all over the country, like mushrooms after the rain. Today, Israel boasts over 750 skyscrapers that are 20 floors high or more – hardly a desolate wasteland with barely a village for "thirty miles in each direction" Israel is now a thriving and developed nation, constantly growing and building at an exceptional rate.
Especially notable is Israel's largest city of Tel Aviv, where dozens of new corporate office buildings and luxury apartment buildings can be seen rising from the Ayalon freeway as it curves through the city. Major construction can also be seen in Kfar Saba, Kiryat Gat, Herzilya, Hadera and Rosh HaAyin with each city's construction growth rate rising considerably compared to the same quarter last year by 309%, 260%, 114%, 109% and 100& respectively[vi]. The rise in construction is also reflected in Israel's House Price Index which hit an all-time high in May of this year, up 114% in the past 10 years.[vii]. Israeli real estate prices even continued to rise during the 2008 global financial crisis, with no sub-prime or mortgage-backed securities setbacks.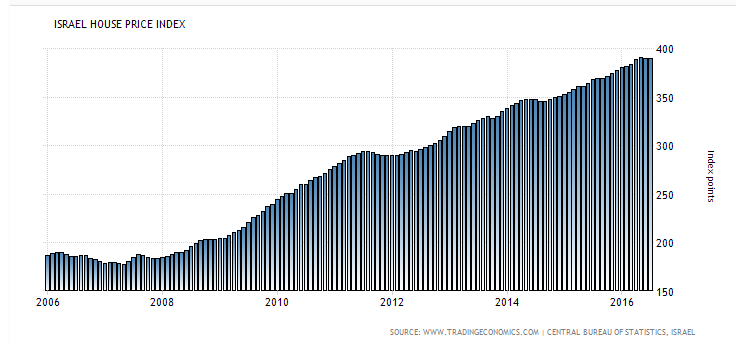 Israeli real estate is seen by many as a solid and long term investment. However, purchasing real estate here requires a large amount of initial capital, comes with high entry and exit high fees (lawyers, bank fees, agents, taxes, etc.) and the investor must endure a hefty amount of bureaucracy. Property management from abroad is difficult, and unfortunately there aren't companies here that offer that service to individual investors. Another disadvantage is the illiquidity of the funds used to purchase the real estate, and in times of need are difficult to obtain speedily without suffering significant losses.
That being said, there is a very practical way for investors to gain exposure in their global portfolios to Israel's real estate market, and at the same time bypass the disadvantages that come with purchasing actual real estate. This is accomplished through purchasing real estate stocks and bonds in Israel's financial market. The $5,000 investment brokerage account minimum allow the small and mid-size investor to have income-generating Israeli real estate in their portfolios that generate regular dividends.
There are several different options for purchasing real estate stocks or bonds on the Tel Aviv Stock Exchange:
A REIT – Real Estate Investment Trust – buys, develops, manages and sells rental real estate assets and real estate loans (mortgages).  Its professionals manage a portfolio of real estate properties that generally include commercial rental properties (such as shopping centres, office buildings, hotels, industrial buildings, etc.) that return rental income for shareholders, typically through large dividends and long-term capital appreciation. This type of specialized company offers shareholders ownership of real estate through the purchase of stock. Investing in a REIT stock versus the direct purchase of real estate has become a popular way for individual and institutional investors (pension funds, mutual funds and insurance companies) to easily gain exposure to the real estate market. REITs have been operating in the United States for small to medium investors since the 1960s, and together are worth hundreds of billions of dollars.There is are a number of publicly-traded REIT investments on the Tel Aviv Stock Exchange. "REIT 1" operates as a real estate investment trust with a property portfolio that includes office buildings, commercial spaces, and industrial properties. REIT 1's stock price has risen by over 180% during the past five years and currently holds an impressive market capitalization of 1.88 billion NIS (approx. $500 million USD)[viii]. REIT 1 is purchasable either through direct stocks or corporate bonds. Sela Capital, another Israeli REIT, has returned 25% to investors in the past 12 months. Another REIT, focusing on residential real estate, had an IPO this month.
Stocks and bonds of individual construction companies and/or indexes that track the Israel real estate sector. For example the Tel Aviv Real Estate 15 index includes stock in the largest 15 real estate companies, including the Azrieli Group, Alony Hetz Properties & Investments, Airport City, Africa Israel Properties and Shikun & Binui. The index has risen 18% YTD and has gained approximately 90% over the past five years[ix].


It is amazing to see how Israel has transformed from a desolate, desert, swamp land into the established built-up land that it is today. It is nothing short of a miracle. According to the Scriptures, looking ahead we can foresee that this modern-day, "nation born in a day" miracle will continue to grow and thrive. If you desire to take part in building up the Land of Israel, literally, by investing in Israeli real estate, you now know that there is a simple and accessible way to own Israeli land and real estate without the hassles of purchasing it yourself.
Stefan Silver serves as the Director of Business Development & Operations at Wise Money Israel (WMI), the first licensed Investment Portfolio Management firm in Israel that works completely in English to serve local and international clients. WMI works with hundreds of individuals and organizations from around the globe to invest in Israel's leading companies and technologies through Israel's capital market – the Tel Aviv Stock Exchange (TASE).
Stefan holds a B.A.in Economics and Management, and an MBA from Haifa University. Born in Auckland, New Zealand, Stefan immigrated to Israel in 1992 and served for four years in the IDF's Combat Engineering Corp, including combat experience on the front lines of the Second Lebanon war. He is currently a Captain in the IDF Reserves.
LinkedIn: Stefan Silver
[i] Mark Twain, The Innocents Abroad
[ii] Ibid
[iii] Brockhaus, Alig. deutsch Real-Encyklopaedie, 7th ed. (Leipzig, 1827), Vol. VIII, p. 206
[iv] Count Constantine F. Volney, Travels Through Syria and Egypt in the Years 1783, 1784, 1785 (London, 1788), Vol. 2, p. 147
[v] Brother Lievin de Hamme, Guide indicateur, Vol. Ill, pp. 163, 190
[vi] Globes
[vii] Israel Central Bureau of Statistics
[viii] Tel Aviv Stock Exchange
[ix] Ibid