Israel's stock market is hitting new highs, surpassing Wall Street by far in 2015. The Tel Aviv Stock Exchange leading stock index (Tel Aviv 25) has returned 16% thus far in 2015, and doesn't seem to be slowing down. The S&P 500 U.S. index returned only 3% YTD in 2015. It's not just the largest 25 Israeli stocks that are on fire. The Mid-Cap 50 and Small-Cap indices have  yielded 16-17% this year as well. The hot stock sectors for 2015 are technology (up 17%), Oil/Gas (up 20%) and Real Estate (up 22%). The continuing real estate building frenzy has pushed the Tel Aviv Real Estate-15 index up 74% over the past three years.
These and other stocks may be purchased in shekels from an Israeli brokerage account, which can be opened remotely from anywhere in the world.
What stocks are on fire?
What individual stocks have outperformed the overall market in 2015 Year-to-Date (YTD)?
Spuntech Industries (67% YTD)
This manufacturing stock's price has increased 67% thus far in 2015, 111% in the past 12 months, and 363% in the past three years. N.R Spuntech Industries is a dynamic developer, manufacturer and supplier of spunlace (hydroentangled) fabric products used as raw materials in various industries. Over 90% of revenues focus on the manufacture of non-woven fabric for industrial wet clamping purposes (hygienic, cosmetic and domestic use). Additionally Spantec products are used as raw material for medical products, and technical products used as raw materials in the automotive, furniture and synthetic leather. 85% of products are exported to Europe and the U.S.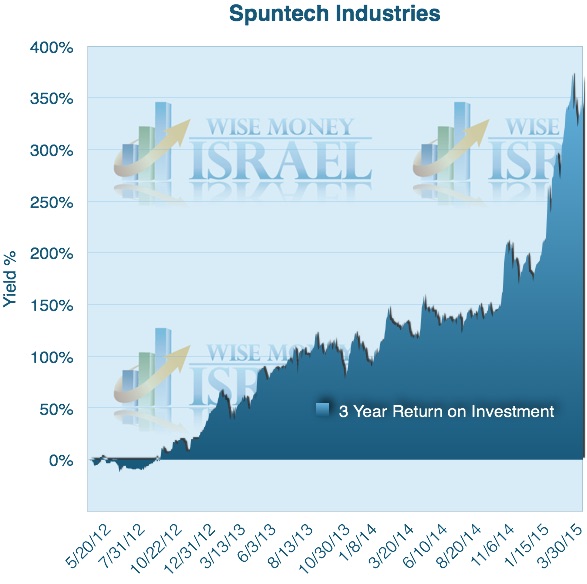 ---
Opko Health (65% YTD)
This biotech stock's price has increased so far in 2015 by 65% and 133% in the past 12 months. One of the 25 largest stocks in Israel, OPKO Health, Inc. is a multi-national pharmaceutical and diagnostics company that aims to establish industry-leading positions in large and rapidly growing medical markets by leveraging their discovery, development, and commercialization expertise and their novel and proprietary technologies. The CEO and Chairman, Dr. Phillip Frost, M.D., was named the Chairman of the Board of Teva Pharmaceutical Industries (Israel's flagship generic drug manufacturer) in 2010.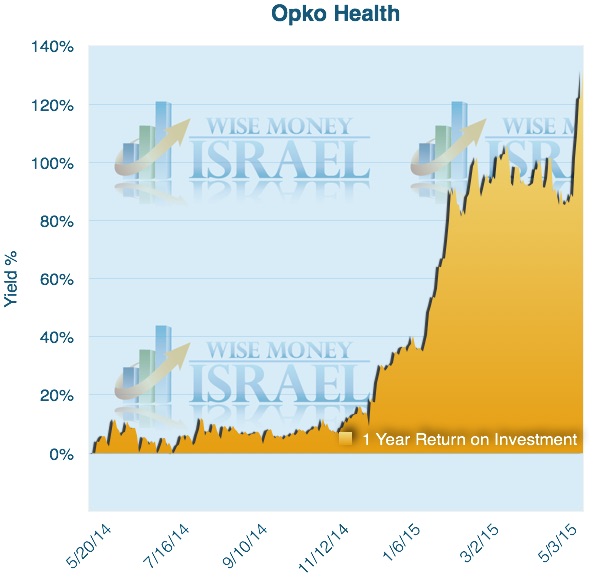 ---
Unitronics (213% YTD) 
This Israeli technology solutions company's stock price increased 2015 YTD by 213%. Founded in 1989, Unitronics creates advanced technological solutions that serve the automation sector, including automated parking systems and logistic solutions & integration for a diverse range of industries, with particular expertise in automated warehouses and distribution centers.  The company has 200 employees and also offers bonds on the Tel Aviv Stock Exchange.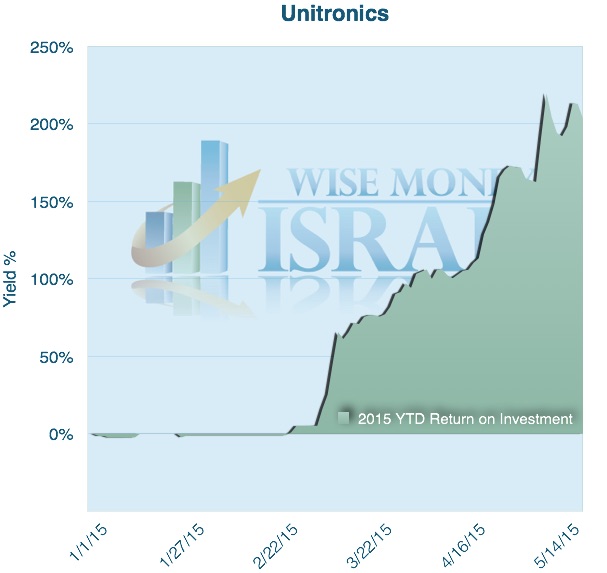 ---
Rekah Pharmaceuticals (177% YTD)
This Israeli drug company returned to shareholders 177% so far in 2015. Established in 1941, Rekah engages in the manufacture, marketing, sale and distribution of pharmaceuticals, cosmetics, vitamins and nutritional supplements. The Rekah Group is active on all levels: production, research & development, marketing, distribution and retail. The Group manufactures a wide variety of some 280 well-known drugs and employs 650 Israelis.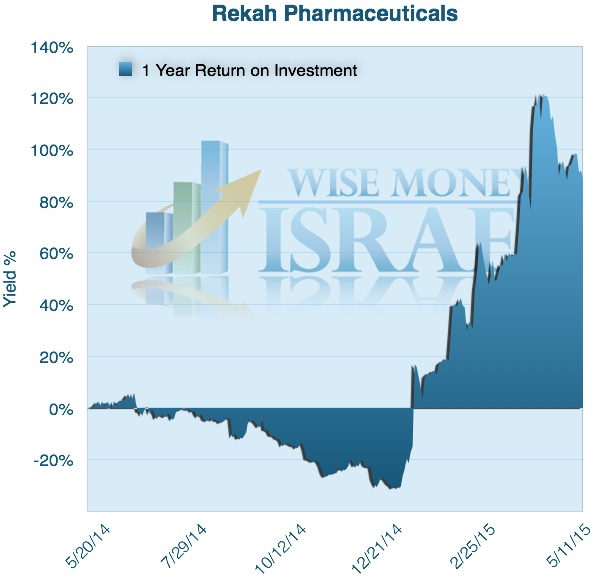 ---
Nissan Medical (54% YTD)
Nissan Medical Industries, Ltd. is the leading company in Israel, and well known throughout Europe, for manufacturing surgical dressing products made of gauze and non-woven fabrics. The company was established in 1984 and since 1993 it has been traded on the Tel-Aviv Stock Exchange. Nissan supplies most of the local market, proudly supplying to the Israel's world-famous medical centers, the Israeli army, as well as private hospitals and pharmacies. During the past few years, efforts have been focused on expanding export overseas, mainly in Europe, where significant sales growth has been achieved. Shares have risen 54% thus far in 2015, 77% in the past 12 months, and 697% in the past three years.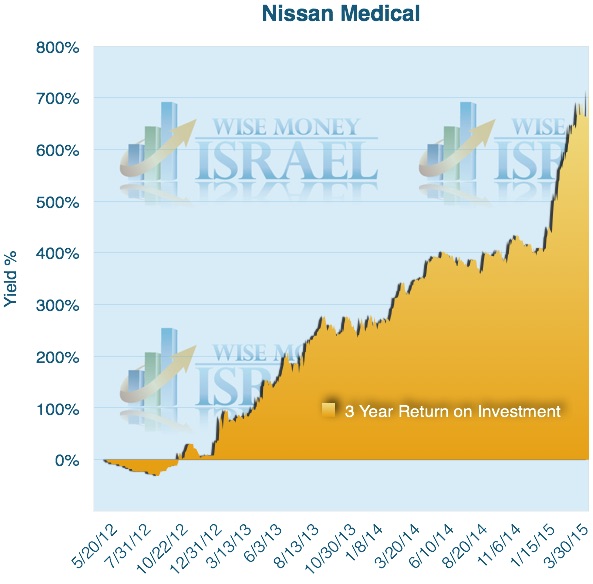 Upside Potential
Rimoni (13% YTD)
Rimoni Industries, publicly traded only on the Tel-Aviv Stock Exchange, specializes in manufacturing injection molds and in precise injection-molding for the automotive, medical, electronic and agricultural industries. Established over 50 years ago, their thermoplastic injection technology provides a unified plastic manufacturing and assembly turn-key solution. The stock price has risen 52% in the past 12 months and 142% in the past three years. The company currently pays a 14.2% dividend.
The seamless integration of services - from mold design to mold making, plastic injection, assembly, packaging and shipping - enables Rimoni Industries to take full responsibility for quality control, at every stage of the production process, and to provide a one-stop shop for the three step of plastic production: mold making, plastic injection and assembly. Combining all stages of plastic production under one roof provides the company's customers a streamlined process. Rimoni Industries is a family-run corporation managed by the sons of the Company's founder, Mr. Yotam Rimoni. The Company employs more than 300 workers at two modern plants spanning 2,000 sqm and 12,000 sqm respectively, and a new 8,400 sqm plant. It's main client is SodaStream, the successful Israeli flagship home-made soda and beverage manufacturer, which comprises 54% of Rimoni's revenue.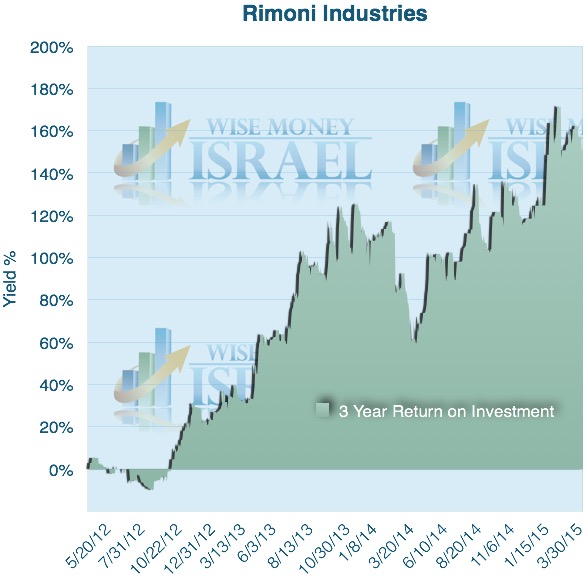 ---
Minrav Holdings (24% YTD)
This real estate development and construction company is one of the three leading firms in the construction field in Israel. Founded in 1969, the stock has been traded on the Tel Aviv Stock Exchange since 1983 and is rated A+/stable. The share price has risen 24% so far in 2015 and 101% in the past three years. The company currently pays a 3% dividend.The firm provides engineering management and execution of construction works in real estate, infrastructure and environmental projects as contractors in the public and the private sectors. The company has a 4 billion shekel backlog of projects. The group is involved in several extremely challenging projects in Israel, including: The Israeli Defense Force's new military training camp city; the Modi'in Latrun train tunnel;
the sea water desalination plant in Ashdod; Terminal 3, parking lots, and bridges at Ben-Gurion International Airport; the Holocaust Museum at Yad Vashem; the Menahem Begin Heritage Center; the Cultural Auditorium in Rishon Lezion; the football stadium in Rishon Lezion; a 110,000 sqm office building in the Government Compound, Tel Aviv; 50,000 sqm of government offices in the Government Compound, Jerusalem; 60,000 sqm of high-tech facilities for Intel, in Kiriyat Gat; 25,000 sqm of high-tech offices on Stonecutters Mountain in Jerusalem amongst others. The group also develops residential neighborhoods in Israel, South Africa, the U.S. and Hungary. Additionally the firm leases and manages yielding real estate assets in the business and government sectors, for use as commercial, industrial and office space. For example, construction of the student dormitories for the Hebrew University in Jerusalem, government offices, the first private prison in Israel, offices designated for long term leasing to high tech companies in Jerusalem and Ashdod as well as commercial and logistic spaces. Minrav also constructs and operates wastewater purification plants and sea water desalination plants. As a pioneer in this field, Minrav has built plants in Netanya, Ramat Hasharon, Beer Sheva and at Ben Gurion Airport. In addition, the Minrav Group has other areas of activity including manufacturing, importing and marketing plastic and PVC products and operating and leasing freezing works.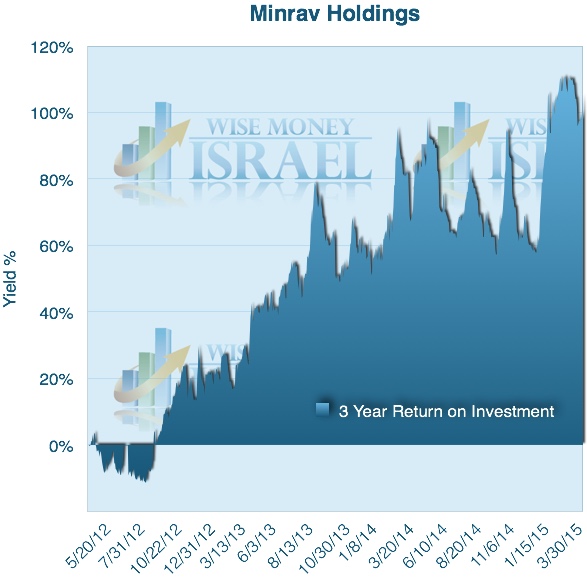 Disclaimer: This article should not be taken as financial advice, nor is it a commitment to achieve any future returns. Past performance does not ensure similar future returns. At the time of authorship, the author may or may not hold securities mentioned in the article. This publication does not constitute an offer to purchase, sell or hold securities or units in a fund, and is not a substitute for investment advising and/or tax advice that takes into account the special needs of each person. Please consult a professional investment advisor concerning your specific situation before making personal financial decisions.
Sources: Tel Aviv Stock Exchange, company websites, data as of 5/19/2015