Top Performing Israeli Stocks on Wall Street
Investing in Israeli stocks traded on Wall Street is a great way to take advantage of Israel's growth and to diversify your portfolio. Many investors simply invest in a stock whose name they've heard, never checking their options.WMI regularly provides this review of the top performing stocks. You can subscribe to our email updates to get current information on Israeli stocks you can invest in.
August 2010 review
There are over [post=83 text="130 Israeli stocks on Wall Street"]. These stocks are traded like all other stocks on U.S. stock exchanges, but the company headquarters and management is in Israel. Which one(s) should I invest in? WMI has done the leg work to determine which of these company's stock performed the best in the past year. For this review, we included only those companies with over $1 billion in market capitalization.
Here are the top price gainers for the year Aug 19, 2009 – Aug 18, 2010. For comparison, we've also included the two [post=1131 text="Israeli Exchange Traded Funds"] and one Israeli mutual fund on Wall Street, as well as three benchmark indexes. Remember, past performance is no guarantee of future results.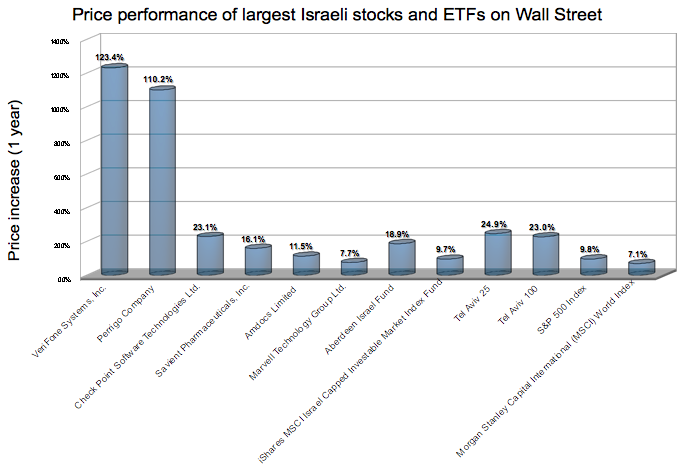 (click to enlarge)
With extraordinary growth (over 110% each) in the past year, VeriFone Systems (PAY) and Perrigo (PRGO) clearly outperformed, by a huge margin, their Israeli peers as well as many stocks on Wall Street and globally. With gains of 11.5%-23.1%, Check Point (CHKP), Savient Pharmaceuticals (SVNT) and Amdocs (DOX) also outperformed the S&P 500 (9.8%) and MSCI World (7.1%) indexes.
The diversified Israel Exchange Traded Fund Aberdeen (ISL) also outperformed these indexes by more than 90%, gaining 18.9% in the past year.
If you had an Israeli investment account in the past year, you would have earned 24.9% by investing in the diversified Tel Aviv 25 index on the Tel Aviv Stock Exchange (comprised of the 25 largest Israeli stocks).
Who are these top performing companies?
VeriFone Systems designs, markets, and services electronic payment solutions that enable secure electronic payments among consumers, merchants, and financial institutions worldwide. This mid-cap stock is rated "Strongly Outperform" by Charles Schwab and "Outperform" by Reuters Research. According to the equity fund Vatea, the industry/sector has a huge growth potential, especially in the BRIC countries (Brazil, Russia, India and China). They like Verifone because of their portfolio of products and more importantly their portfolio of customers. The sector has just three major players, which means there's enough room for everyone. Verifone is the leader in the USA but they also are the leader in the Swiss and German markets, which are high end. Verifone's approach–picking only high end customers, high end retailers and high end markets–along with its great potential for market growth should pay off over the long term and distance it from competitors. Gregory Pepin, chief analyst for the Vatea Fund, says, "You also have to take into account their new payment app on the iPhone which opens a new business opportunity for Verifone. It seems the company is moving more and more toward providing solutions for mobile payment through smartphones for example. That market offers amazing growth opportunities."
Perrigo Company develops, manufactures, and distributes over-the-counter (OTC) and prescription (Rx) pharmaceuticals, nutritional products, active pharmaceutical ingredients (API), and medical diagnostic products worldwide. Rated "Buy" by Ned Davis Research, this growth company recently acquired the rights to private label the allergy drug Allegra and hair loss treatment Rogaine. The financial magazine Barron's recently stated: "The Perrigo glow may not wear off anytime soon. Even if the economy improves, many consumers are likely to stick with Perrigo products that have proven effective. Some brand-name treatments cost more than $100 apiece. The dollar savings from such products is probably too large to forgo."
Check Point Software Technologies develops, markets, and supports a range of software, and combined hardware and software products and services for information technology security worldwide. The company offers network and gateway security solutions, including Firewall that inspects traffic as it passes through security gateways; intrusion prevention system (IPS), which monitors the network for malicious or unwanted traffic, as well as detects and blocks known and unknown attacks on the network or system. One of the flagship high tech companies in Israel, it catapulted from $2/share to $106 in 1998-2000. This mid-cap stock is currently rated "Outperform" by Credit Suisse Research and Reuters Research. The company reported strong second-quarter 2010 performance with a 25% year-over-year increase in product and license sales. Growth was strong across all product lines and geographies, although growth in Europe was lower than in other areas. Gross margins climbed about 1 percentage point over the prior-year quarter despite appliance sales accounting for a larger share of the revenue mix. The increasing proportion of appliance sales continues to drive an increase in the number of large deals, with transactions over $50,000 accounting for 58% of total order value in the quarter. The firm has executed very strongly over the past year, with revenue growth benefiting from the acquisition of Nokia's security business.
Savient Pharmaceuticals is a specialty biopharmaceutical company with one meaningful drug candidate, Krystexxa, for treatment-failure gout, a painful joint and tissue affliction. The company also sells and distributes branded and generic versions of oxandrolone, a drug used to promote weight gain following involuntary weight loss. It sells its products directly to drug wholesalers. This small cap stock is rated "Outperform" by Reuters Research, but "Underperform" by Charles Schwab. While their main drug Krystexxa has only 50,000 potential patients, Savient's solution stands to get a high portion of this population.
Amdocs, founded in 1982 and having 18,000 employees, is a leading provider of software and services to the communications, media, and entertainment industry service providers worldwide. The company's software systems support the full span of the customer life cycle, including revenue management, customer management, service and resource management, personalized portal and value-added services, and portfolio management. Amdocs also develops software for telecom directories sales and publishing. Another of Israel's flagship high tech companies, this mid-cap company is rated "Buy" by Ned Davis Research and "Outperform" by Reuters Research. At the end of the third quarter of fiscal 2010, Amdocs had approximately $1.29 billion of cash and marketable securities and no outstanding debt on its balance sheet compared with $1.17 billion of cash and marketable securities and no outstanding debt at the end of fiscal 2009.
Marvell Technology designs integrated circuits primarily for the data storage, networking, and communications. Historically, the firm focused on storage, where it is still a key supplier to hard disk drive makers. The firm has since diversified and supplies chips to the networking and wireless handset industries. Its Wi-Fi chips are also used in consumer devices and gaming systems to connect users to the Internet. With over 5,000 employees, this large-cap stock is rated "Market Perform" by Charles Schwab, 4 out 5 star rating with Morningstar, and "Outperform" by Reuters Research and Credit Suisse Research. Morningstar indicates: "Marvell has been a high-growth chip maker over the past decade, with leading market share as a supplier to the data storage industry. Although it has several growth opportunities on the horizon, the firm is likely to encounter fierce competition, particularly in non-storage end markets." Marvell is debt free and ended the year (fiscal 2010) with nearly $1.8 billion of cash on its balance sheet, which is quickly growing quarterly.
Sources: Charles Schwab, Morningstar, Yahoo Finance, SeekingAlpha
The raw performance data:
Price performance of largest Israeli stocks and ETFs on Wall Street
| Name | Price increase (1 year) | Ticker Symbol | Exchange | Market Capitalization |
| --- | --- | --- | --- | --- |
|   |   |   |   |   |
| Stocks |   |   |   |   |
| VeriFone Systems, Inc. | 123.4% | PAY | NYSE | 1.93B |
| Perrigo Company | 110.2% | PRGO | NASDAQ | 5.44B |
| Check Point Software Technologies Ltd. | 23.1% | CHKP | NASDAQ | 7.15B |
| Savient Pharmaceuticals, Inc. | 16.1% | SVNT | NASDAQ | 1.03B |
| Amdocs Limited | 11.5% | DOX | NYSE | 5.52B |
| Marvell Technology Group Ltd. | 7.7% | MRVL | NYSE | 1.52B |
|   |   |   |   |   |
| Israeli stock ETFs on Wall Street |   |   |   |   |
| Aberdeen Israel Fund | 18.9% | ISL | AMEX | 64.7M |
| iShares MSCI Israel Capped Investable Market Index Fund | 9.7% | EIS | NYSE | 164.6M |
|   |   |   |   |   |
| Benchmarks |   |   |   |   |
| Tel Aviv 25 | 24.9% | TA-25 | TASE | 128.5B |
| Tel Aviv 100 | 23.0% | TA-100 | TASE | 172.4B |
| S&P 500 Index | 9.8% | .INX |   | 9.7T |
| Morgan Stanley Capital International (MSCI) World Index | 7.1% | MXWO:IND |   |   |